The entire notion of transactional commercial real estate is evolving. The commercial brokerage industry has a longstanding reputation as a technology laggard, placing it in a position to follow rather than lead.
As the pandemic continues, the brokerage industry has the potential to benefit from today's technology and innovative startups. Over the past decade, venture capital and private equity investments in real estate technology have seen a rapid rise of the global proptech movement. Most recently, proptech shattered investment records with $32 billion invested across 1,483 companies in 2021.
"Tomorrow's leading brokers and the next generation of disruptive, industry-changing real estate organizations will be the ones who continue to embrace technology and build a culture around reinvention," said SIOR Global CEO, Robert G. Thornburgh, SIOR. "The real estate industry and clients we serve will demand it as an entirely new generation of tech-savvy leaders continue to emerge."
According to global proptech research center and thinktank, CRETI, $2.7 billion has been invested across 68 companies by the top 10 largest commercial real estate leasing firms since 2010, with over 44 investments by JLL and JLL Spark, and more than 11 investments by CBRE.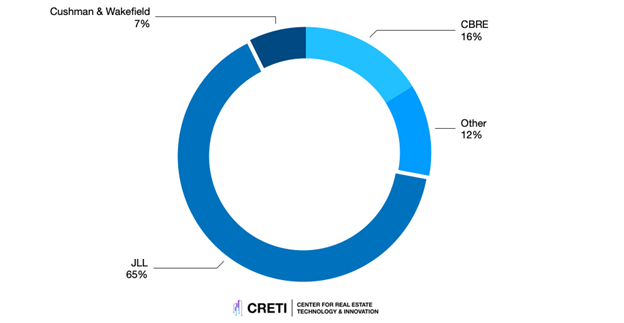 Some believe technology's disruption of commercial brokerage and transactional real estate has been greatly exaggerated. From flex office providers to transaction platforms, many of today's leading proptech companies in commercial real estate have partnered with the brokerage community to scale both financially and operationally.
The ongoing increase in investor interest by the largest brokerages has led to a number of large and diversified funding rounds over the past decade. In fact, the top five largest capital raises represent 41.5% of total funding. The single largest proptech round took place on August 21, 2019 where Knotel, a New York-based provider of flex-office, raised $400 million in a Series C venture funding round from nine investors, including Newmark.
"There are tremendous opportunities for the commercial brokerage industry to technologically and financially benefit from today's tech landscape," said Bob Gillespie, executive director at Second Century Ventures, the strategic venture partner of the National Association of REALTORS. "The industry has evolved and the rise of new technologies has reorientated the way many of today's brokers transact and represent their clients."
The diversification of capital has positively impacted proptech companies in commercial real estate, especially companies supporting brokerage. Over the past decade, 35.7% of total investment rounds (deal volume) went to early stage, Seed and Series A companies. During the same period, mid-stage investments represented 28.6% of total deal volume.
"2021 will go down as the year that commercial real estate brokerages started to fully embrace and realize the benefits of proptech. Fueled by COVID, workplace challenges, and exponential growth in VC [venture capital] funding, proptech has hit its stride and figures to have a banner year in 2022," said Geoffrey Kasselman, SIOR, senior vice president and partner of workplace strategy at CRG, a privately held real estate development firm that has developed and delivered more than 200 million square feet of commercial, industrial, institutional and multifamily assets.
One thing is for sure – brokerage companies have benefited greatly as technology continues to evolve as a commercial real estate "need." The continued interest in funding proptech companies by brokerages will only grow as more companies come to market, providing strategic value to the transactional real estate industry.