In every industry you will find professionals with a wide range of experience levels and designations. The commercial/industrial real estate industry is no different. There are many affiliations, designations and other degrees that can be obtained to enhance your expertise. However, when looking for a commercial/industrial real estate professional to work with, qualifications and a successful track record are always going to be key to making your final decision. This is just one of many reasons that I would encourage you to always make certain you are working with a commercial real estate professional who has earned the SIOR designation.
SIOR or SOCIETY OF INDUSTRIAL AND OFFICE REALTORS® is the leading professional commercial and industrial real estate association in the world. Comprised of 3,000 members in more than 630 cities in 34 countries, an SIOR member represents today's most knowledgeable, experienced, and successful commercial real estate specialists. When you work with an SIOR there is an unsurpassed level of experience and knowledge that you can expect.
Here are just a few reasons why is it so important to work with an SIOR professional:
SIORs are dedicated and committed to the practice and maintenance of the highest professional and ethical standard.
SIORs have achieved the highest level of knowledge, production, and expertise in the commercial real estate industry.
They are proven professionals...having adhered to high production and transaction volumes for a five - year period before applying to become a SIOR Member.
SIOR members have a vast global network to tap into when assisting you with your commercial/industrial real estate needs.
SIORs are simply the best in the business...why would you trust your commercial real estate transaction to anyone else?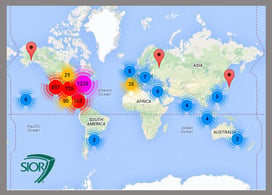 The Worldwide SIOR Member Network
I am honored to have been a part of this prestigious network of commercial real estate professionals for more than 18 years. I'm dedicated to the organization's pursuit of commercial real estate excellence and its high standards of membership. In fact, I've served on the SIOR Board of Directors for many years as well. Choosing to work with an SIOR member is the smartest, easiest way to ensure that you've chosen one of the top real estate professionals in the area and you can expect a highly professional service that is fast, responsive, creative, and cost effective, while achieving - and, surpassing - your goals.