Food boxes distributed at COVID testing sites help thousands thanks to partnership with local SIOR.
A discussion with Chris Farrand, Regional Director of Emergency Disaster Services for MA/CT/RI at The Salvation Army.
When there is a major disaster, aid is often coordinated and executed by the very agencies we have come to rely on. But even disaster relief organizations could not have planned for the level and duration of the COVID-19 pandemic and the toll it would take on everything and everyone.
So, what happens when those very agencies are in need themselves? To whom or where can you turn for assistance?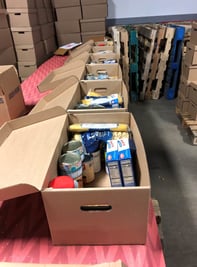 That was the challenge that Chris Farrand, Regional Director of Emergency Disaster Services and Greater Boston Social Services Coordination at The Salvation Army, found himself facing.
"The longevity of the disaster made this pandemic very different," said Farrand, who often deploys at the front end of a crisis to mobilize services to begin rebuilding and recovering. "When I usually deal with disasters, whether it was the Merrimack gas explosions, the Boston Marathon bombing, or major earthquakes or hurricanes, I've always deployed for a very specific amount of time to provide immediate emergency critical aid. Upon leaving, I know the existing infrastructure and services can take over once they've had some time to rebuild."
However, with COVID there was no singular place to go; no set timeframe to work around; and no local resources to utilize in order to establish an infrastructure.
"With everyone and everywhere impacted, that resource base was gone," Farrand explained. "All of a sudden, no one could get anything they needed."
Disaster feeding, for example, was greatly impacted. Food banks and pantries that provide daily services for individuals and communities with food insecurities found their supply gone, and their supply chain disrupted.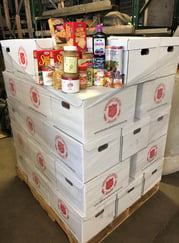 "There has always been plenty of food with, say the USDA for example, and we always had mega bulk vendors to go to directly for general goods," Farrand said. "But because the need ramped up at a pace no one had thought of due to the cascading consequences of COVID and the stay-at-home laws, vulnerable population were impacted as factories shut down."
While consumers found empty shelves in every local store, so did the very facilities those stores relied on. For example, peanut butter brand, JIF, was unable to continue production because the factory that produced the lids was forced to shut down. Suddenly the supply chains came to a screeching halt.
"It was just an absolute mess. Food pantry shelves were empty. Appointments were being cancelled. The needs had doubled and tripled in some locations. There was a critical mass on food demands."
They needed a new plan, and fast. In his role, Farrand creates mechanisms for production where infrastructure has been damaged—and it is all about creative solutions and collaboration. So they began thinking outside the box, and reaching outside of their circle to work with new players that could assist in unique ways.
Farrand and his team identified a company that prepared individual meals for airlines with massive packing plants located throughout the country. With travel halted, a new resource emerged—one with a large-scale logistics model already established and food connections that could bring bulk food from all over the world. They were able to utilize this massive food production chain to acquire items such as large drums of raw peanut butter, to repackage in small plastic tubs and redistribute to provide peanut butter to those in need.
Once acquired, the goal was to provide food for those in immediate, unplanned need, such as for individuals that were either isolated due to positive COVID tests, quarantined as they awaited results or were in close contact with positive individuals, and/or vulnerable citizens that either could not or should not leave their homes or living facilities.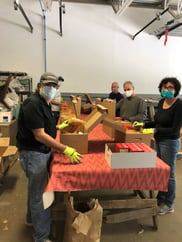 "There were a number of people that, when they got home from testing, may not have food to feed their families." Many of these individuals found themselves unable to leave their houses for a period of time to even go to the store. So, the Salvation Army began handing out shelf-stable pantry boxes at COVID testing centers for those that wished to bring them home as they waited.
They were able to get tens of thousands of food boxes packed in other parts of the state and delivered to locations in need. But securing the food was only half the battle. In order to keep the system running, they needed a place to store the resources locally for distribution.
That's where SIOR's Global President Mark Duclos, SIOR, came in.
"One of the biggest issues we always have with emergency deployment is warehouse space," Farrand explained. "If we have a donation of rice and beans and no place to store it, then we can't hand it out. Oftentimes we don't have dedicated warehouse space. For the pandemic, we knew we were going to be getting tractor-trailer size deliveries. We had a donated space and that person had to shut down their operations, so we were dead in the water. And that's when we were able to connect with a local broker, Mark, and one of his partners, to identify warehousing space to house our inventory. It was absolutely critical in every sense of the way."
Duclos helped to identify two different warehouse facilities, one in Bridgeport, Conn., and one in East Hartford, Conn. Both spaces had very specific dock heights and square footage requirements to accept the trailer deliveries. And with no readily available manpower to operate the facilities, Duclos was even able to partner with someone who offered not only his warehouse space, but assistance with equipment like forklifts, in order to complete the orders.
"It absolutely allowed us to stay afloat," said Farrand. "Massachusetts and Connecticut were some of the first two states to start purchasing these large-scale shelf stable emergency food boxes. And once we built that mechanism, and got some funding from the state, we used the Salvation Army disaster operation to deploy them. That's when we really started seeing some traction."


In just Massachusetts, Connecticut, and Rhode Island alone, they were able to serve 25 million meals to people in need.
"The help we received was critical," said Farrand, on working together with Duclos. "Many people would not have eaten if they weren't able to get the space to fulfill their needs. That's how real it is."