Retail:
In 1990, the economy was booming, and enclosed shopping malls around the U.S. were the favorite for shopping. Anchored by such stalwarts as Sears, Macy's, Hess's, Montgomery Ward, Saks Fifth Avenue and the like – all were thriving. Bookstores, (Waldenbooks, B. Dalton, Barnes & Noble) shoe stores, (Kinney, Thom McAn, Foot Locker) and electronics retailers (Sharper Image, Circuit City, Radio Shack) peppered the malls, with the bigger ones often being large and single destination. Strip malls were the darling of small investors, and grocery-anchored centers as choice real estate investments were still in their infancy. Blockbuster, Media Gallery and Hollywood Video were soon to displace the mom and pop video rental and music stores (Sam Goody and Media Play suffering a similar fate) with thousands closing by the mid-2010s, leaving Redbox kiosks in grocery stores the lone survivor. Large footprint electronics stores—both regional and national (HH Gregg, Steinberg's, Best Buy, Circuit City)—were thriving on large TV and new personal computer sales, but they were soon to feel the pinch from online sales.
By the beginning of 2010, the American buying public had transformed radically. The largest single factor was the emergence of online sales—now 11% of all retail—and destined to climb dramatically. In comparison, 35% of all retail sales in China today are online. Large retailers such as those mentioned above were finished. Kmart merged with Sears, and then folded the entire empire. Even Walmart—the king of the big discount stores—had to radically alter its platform to accommodate e-sales, as did Target. Grocery chains—such as Kroger and others—had to offer food delivery to compete with Amazon's Whole Foods.
Ah - Amazon! The single biggest disrupter of retail (38% of all e-commerce sales), along with "smaller" forces like eBay, transformed the buying landscape. The demise of so many shopping malls and big-box retailers happened while e-commerce warehouse construction flourished. The last mile was still elusive, and drones, timed combination lockboxes, and the traditional delivery players (UPS, FEDEX, USPS) filled the bill—until Amazon decided to go all-in or all-out—with their own Prime network of contract delivery drivers. By the end of 2019, half of Amazon deliveries were through this "last Mile Program."
The impact on retail real estate? Malls—for the most part—are severely devalued. Neighboring shopping centers/strip malls are suffering high vacancy rates with little leasing activity in a booming economy. Restaurants that fail are usually razed—or often radically revamped—to add more seats and squeeze down the kitchen size. Different outlot players appeared, but fast food was still dominant.
Eventually, "Lifestyle Centers" sprang up—retail, residential, hospitality, parks, entire new mini-communities. The concept is still in its beginnings—often struggling for identity—but has caught on in many places with Gen X-ers and Millennials, who prefer apartment and walkability to suburban car-dependent home ownership.
Office:
In 1990, having a downtown office was the ultimate desire, but suburban office parks with free parking were springing up. Slowly, vacancy rates in central business districts (CBDs) climbed above suburban. Many new CBD office buildings built in the '80s became a little dated—older ones, more so—and there was little downtown residential to offset the suburban advantage of proximity to homes. But all company employees were in the office, clustered by departments.Being near the courthouse and county records kept attorneys and commercial real estate players nearby.
Slowly, the internet age took over, accelerating in the new millennium. Gradually, WiFi-connected employees started working from coffee shops and other cafes—and from home. The growth in office space stopped, and actually reversed when shared space – first called "hoteling" (where employees, at different times shared work stations)—began to flourish. In the post-2010 era, companies like WeWork began offering space with WiFi on a monthly rental basis, so satellite offices in urban areas didn't need a leased space—which when not in a small suite, would be in Regus or HQ offices that provided clerical help. As laptop/WiFi usage evolved, the need for the assistance vanished—only copiers/scanners/printers were needed, along with amenities. Flexibility was the goal, though the WeWork model appears to have grown too fast and a bit recklessly1.
The effect on office real estate? Lease rates plateaued, with only the best-located buildings increasing in value. New office buildings including underground parking—which is far more expensive than adjacent lot parking—were fearful of that major investment being wasted, whereas adjacent surface parking can always be converted for other uses. With lease rates leveling out and construction costs and land costs continuing to escalate, far fewer new office buildings are being built as this segment of the industry struggles to meet the needs of tomorrow. Open office plans, more included services in tenant space, and high-capacity Wi-Fi lead the suite of attractions to lure new tenants in existing Class A buildings. Class B buildings struggle, with only painful price reductions as an offering, and Class C? Many are being converted to residential, especially in active urban primary and secondary markets, as younger workers seek walkable living. Time will tell on the office market and its future prospects.
3 months later:
The previous 30 years saw slow, gradual changes in both retail and office.
Then the novel Coronavirus struck. What impact did it have on retail and office real estate now and how will it be impacted in the coming months?
Nobody knows precisely where things will end up—or when. But one thing is for sure: the impact on retail real estate and on office properties is—and will continue to be—dramatic.
First, retail. As of today, restaurants nation-wide have been shut down. Non-essential businesses the same. Shopping malls are empty. And "essential" businesses like building product stores—hardware stores, Home Depot, Lowe's—have plummeting sales. Multi-tenant centers—whether or not they're anchored by still-thriving grocery anchors (whose delivery systems are now way different) —are bombarded with requests for rent relief. As we'll see in the narrative about the impact on office buildings, tenants and landlords are scrambling to interpret the existence and strength of force majeure clauses, which permit rent abatement in specific "acts of God" language. Attorneys nationwide are busy evaluating these clauses. But what has been the biggest impact? E-commerce.
% of e-commerce sales of total retail - U.S. from January 2010 through December 2019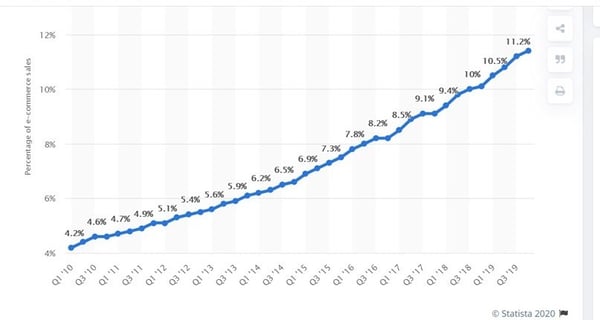 Graph source: https://www.statista.com/statistics/187439/share-of-e-commerce-sales-in-total-us-retail-sales-in-2010/
Today the National Retail Federation predicts that the percent of overall e-commerce sales in 2020 will jump to 15% of the total retail sales of almost $4 trillion—or more than half of the gain it took 10 years to achieve up until this year! In other words, a steeper fall for traditional brick and mortar, led by a very high number of empty free-standing and strip center restaurants. At this writing, there is no way to predict the severity of the problem – but it will be devastating.
Next office buildings: paralleled to the sharp increase of e-commerce retail as a percentage of the total, the percentage of people who were forced to work from home grew rapidly out of necessity. As long as the practice continues—and systems are refined and technology is improved—it's likely that many companies will have non-office workers as a permanent component of their teams. At present, with the halting resumption of work in traditional office space, involving touchless entry, wide spacing of employees, major daily sanitizing and expensive HVAC air scrubbing, it's pretty likely that many workers will balk at the notion that working in the office is a good idea. It's also highly likely that adoption of "the new normal" will be slow and that it will result in fewer office workers and more remote workers.
So office occupancy rates are likely to be reduced significantly, office footprints will be made smaller, downsizing will be almost universal, and vacancy rates will stay higher than they've been in years, not to mention the likely drop in net lease rates. This means office buildings will be worth significantly less, and there is unlikely to be any construction of major new multi-story office buildings for many years.
Large office portfolios being sold will more than likely stop altogether until the market stabilizes, which could take years.
A potentially grim outlook for office real estate, for sure.
---
1. https://www.vox.com/recode/2020/1/8/21052001/wework-growth-us-new-york-real-estate