On March 15, 2019, the SIOR Northern California Chapter and SIOR Foundation-sponsored Cal Bus Tour took a group of nearly 50 Undergraduate Real Estate Club (UREC) students from the University of California, Berkeley (Cal) on a bus tour of Silicon Valley. The trip included a tour of the new Facebook campus on the San Francisco Peninsula, as well as a stop at Apple's "Spaceship Campus" in Cupertino. "The SIOR tour exposed me to an amazing range of projects in different stages of development and construction and for vastly different uses," said Kaitlyn Kang, a Cal architecture student and sophomore from Philadelphia. "[The] most impactful [part] of today's experiences was hearing about the process of how a project comes to fruition—from securing the land all the way to leasing—the interplay of a vast number of people, firms and capital involved. Today's tour not only inspired me to become more involved in the real estate industry, but also showed me how much more there is for me to learn."
Facebook Campus, Burlingame, CA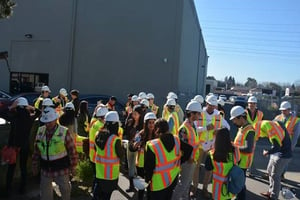 The first stop of the day was to Burlingame Point—now known as Facebook Campus, since the social media giant officially leased the space in January 2019. The students were able to see the "topping off" ceremony as the "Christmas Tree" was placed on the highest level of the fourth and final building, completing the core construction. They were also invited to tour some of the project construction and speak with the lead architect of Burlingame Point, Benedict Tranel, AIA, LEED AP.
Station 1300, Menlo Park, CA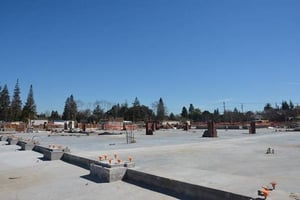 Next up, the group went to Station 1300 in Menlo Park. At this stop, the students spoke with Station 1300 developer, Bob Burke, and his partner Steve Pierce. Burke and Pierce shared how they found the property as well as the various phases of construction, including the difficulties they faced during the entitlement process, giving the students the chance to experience the highs and lows of commercial real estate.
Google Charleston East, Mountain View, CA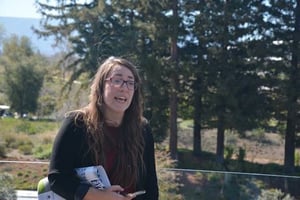 The next stop of the trip brought the students to Google's first-ever ground up project. Janice Bitters, a real estate reporter with the San Jose/Silicon Valley Business Journal, met up with the group to talk to them about Google's real estate portfolio.
Apple Park Visitor Center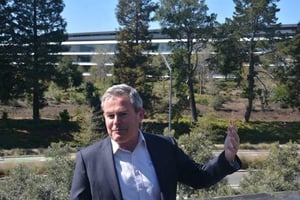 The final stop of the day brought with it a familiar face. Dave Sandlin, SIOR, was the group's local expert for the Apple Park Visitor Center. Sandlin discussed how Apple Park (aka "Apple Spaceship") was a three-year project with an estimated $5 billion development and construction cost, making it one of the most expensive real estate building projects. The SIOR Foundation serves to educate, enhance, and expand the next generation of commercial real estate leaders. Opportunities like this bus trip give these future leaders the chance to experience the details of the industry, beyond what a classroom can teach. The full article of the students' day is available here.
Text and photos by Gary E. Marsh.