This SIOR Pulse blog series connects with SIOR members across the globe to discuss business and market conditions, while discovering the current events and issues impacting their daily lives.
This month we spoke with Dan Palmeri, SIOR, senior director at Cushman & Wakefield in Las Vegas, NV. In such an economically vital hot spot, Palmeri shares his thoughts on his market and current conditions.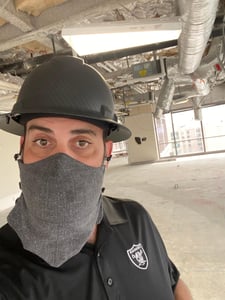 SIOR: Right this very minute, where are you working? And who or what (i.e. a pet perhaps) dictates your current work location?
Daniel Palmeri, SIOR: I'm working in the office 4-5 days a week. We are limited to 50% of our headcount with most people coming in-person 2-3 days a week. But I'm a workaholic.
SIOR: What one change has been the most difficult to confront as a result of the COVID-19 pandemic?
DP: Having my team work from home 4 days a week has really affected our collaboration and productivity on a day-to-day basis. We're slowly getting back to a more regular schedule and have seen drastic improvements.
SIOR: What strategies have you used to cope with remote work and the current state of affairs?
DP: Much more use of technology and video conferencing, whether it's for team meetings or client pitches and updates, we're having many more face-to-face interactions with clients than before.
SIOR: How is your company encouraging collaboration and unity during these times?
DP: We have bi-weekly "Feel Good Friday" video conference calls that are hosted by specific teams. Each team will determine what the game/experience will be. We also now have weekly all-hands meetings to start the week off.
SIOR: Have any areas of your business come to a standstill?
DP: 75% of our deals that were in-process pre-COVID have remained on-hold. Any current requirements have been post-COVID.
SIOR: Are there areas of your business that are still going strong? What deals have you managed to continue to push through, if any?
DP: Our healthcare clients are still moving along at their normal pace. We have also seen a massive increase to sublease listings.
SIOR: What changes are you seeing in your market that you expect will remain after the pandemic subsides?
DP: We've seen the sublease availabilities more than double due to COVID. What's different is that we're seeing very large spaces come back to the market, when traditionally we have not had quality large spaces available in Las Vegas.
SIOR: What is your confidence level in your industry and what most keeps you up at night?
DP: I'm still confident in the office market. The longer people are working from home, the more companies are realizing they need to get people back into the office. It's still a "wait-and-see" scenario for now, but over time, I believe things will get back to some semblance of normalcy. We're so busy but we can only control what we can control, the rest we just roll with.
SIOR: What do you predict reopening businesses and workplaces to look like and what needs to happen—or what is currently happening—to facilitate that in your area?
DP: I don't see a ton of change in the layout of how office space is designed. I think employees are going to look to their employers to be diligent in maintaining a clean environment, with protections in place for their employees while also being much more lenient in WFH flexibility. The major thing that needs to happen is for the schools to open back up so parents can leave the house and go to work.
SIOR: Prior to COVID, how was the market in your area?
DP: Las Vegas was at its strongest point since the great recession. Activity was very strong with new development just starting to break ground.
SIOR: How do you expect the market to look two months from now? Six months from now?
DP: Six months from now, I see more activity and more companies requiring their employees to return to the office.
SIOR: Are there any changes you've implemented that you personally hope will continue?
DP: I want to keep up with video conference calls with new prospects/clients as it creates a stronger bond than just being on a phone call. Also, if more leasing agents can complete virtual tours of their listings, it will provide easier access for clients to a space, especially if they don't want to travel to tour.
SIOR: What has been your biggest takeaway from all of this? What's the one thing you have learned that has impacted you the most?
DP: Keep hustling, no matter what. Recessions and difficult times create opportunity to grow and take your business to the next level.
SIOR: If you could go back in time one year, what is one thing you would tell yourself to best prepare for this upcoming year?
DP: Buy more Tesla stock.
---