This SIOR Pulse blog series connects with SIOR members across the globe to discuss business and market conditions, while discovering the current events and issues impacting their daily lives.
This month we spoke with Rob Renaud, SIOR, president and broker of record at Devencore in Toronto, ON. He sheds some light on being an office and industrial specialist in Toronto right now, which has recently been on lockdown again and whose office market is struggling, similar to many other office markets around the globe.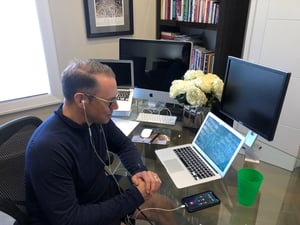 SIOR: Right this very minute, where are you working? And who or what (i.e. a pet perhaps) dictates your current work location?
Rob Renaud, SIOR: My home office. I've always had flexibility with where I work and have balanced work-life demands between my company office and my home office. No one dictates my work location as I've always had the freedom to choose how and where I work.
SIOR: What one change has been the most difficult to confront as a result of the COVID-19 pandemic?
RR: Communicating with and keeping in touch with clients, family, friends, and colleagues—it's just not the same over a computer, but we are making the best of it despite the fatigue of being on a screen all of the time.
SIOR: What strategies have you used to cope with remote work and the current state of affairs?
RR: Remain focused. Take regular breaks. Spend time with family. Workout most days. Taking care of yourself first is how you can better take care of others.
SIOR: How is your company encouraging collaboration and unity during these times?
RR: We are leveraging Zoom (of course); holding weekly virtual sales meetings; and encouraging a rotating schedule of going to the office every other day (when allowed).
SIOR: Have any areas of your business come to a standstill?
RR: None whatsoever, we've never been busier. Only one client put their expansion on hold.
SIOR: Are there areas of your business that are still going strong? What deals have you managed to continue to push through, if any?
RR: Yes, every part of my business from investment sales, suburban and downtown tenant representation, and both industrial and office. Not everyone can say the same and I feel very fortunate.
SIOR: What changes are you seeing in your market that you expect will remain after the pandemic subsides?
RR: I expect to see changes with more flexible work policies. Potentially a decentralization of the workplace with more community-oriented locations to support a slightly reduced head office footprint. Less in-person tours for a while with the augmented use of 3D walkthrough tours, etc.
SIOR: What is your confidence level in your industry and what most keeps you up at night?
RR: I have a decent level of confidence that we will get through this, but there will be some bumps in the road, so what keeps me up at night is whether the deals I'm working on will come together and that clients don't get spooked by all the noise and listen to their gut—people cannot work at home permanently.
SIOR: What do you predict reopening businesses and workplaces to look like and what needs to happen—or what is currently happening—to facilitate that in your area?
RR: I predict rotating schedules, masks for sure, lots of PPE available. People need to communicate their concerns and they need to be dealt with appropriately. The use of technology tools to track people's exposure to this pandemic and reduce the fear of going to the office will also be key.
SIOR: Prior to COVID, how was the market in your area?
RR: The market was on fire in all asset classes. With a 2% vacancy rate in both the office and industrial markets, it made it difficult to transact as a tenant rep broker at times.
SIOR: What is the vacancy rate currently?
RR: The industrial market remains at an all-time low that hovers around 1%. The office market has seen vacancy rates increase from around 2% to around 5% in the Toronto region, in large part due to the millions of square feet of sublease space that has come on the market.
SIOR: How do you expect the market to look two months from now? Six months from now?
RR: In two months I expect people will still be a bit apprehensive on making real estate commitments. But I expect in six months, things will normalize and companies will see that they cannot have their employees work from home permanently and start to think longer term again.
SIOR: Are there any changes you've implemented that you personally hope will continue?
RR: I've always been a big proponent of flexible work policies, and we as a company have implemented this because of the pandemic, but I believe it's a sustainable way of working. Spending more time together as a family has also been phenomenal and I feel it's brought us closer together and would like to see that continue.
SIOR: What has been your biggest takeaway from all of this? What's the one thing you have learned that has impacted you the most?
RR: Despite the challenges (which have been many), a positive can-do attitude and long-term outlook can really help clients, family and friends. Sharing and collaborating through times like this is so important.
SIOR: If you could go back in time one year, what is one thing you would tell yourself to best prepare for this upcoming year?
RR: I'd continue to take care of myself emotionally, mentally and physically so that I can weather a storm like this as well as I did.
---