SIOR is pleased to announce that it has received the Realcomm Digie award for Best Use of Automation - Brokerage Services in the 14th Annual Realcomm Digie Awards. The award was presented yesterday during the Realcomm & IBcon 2013 Conference in Orlando, FL. SIOR Digital Media & Communications Committee Chair Geoff Kasselman, SIOR, LEED AP, accepted the award on behalf of SIOR.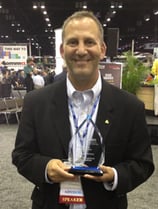 The prestigious Digie honors individuals, companies, projects, and solutions that have demonstrated the most innovative use of technology and automation in the commercial and corporate real estate industries.
The category Best Use of Automation honors companies that have significantly automated traditional business processes or impacted their industry segments in the following categories:
Commercial Real Estate (3 awards in this category)
Commercial Services
Brokerage Services
Retail
Corporate Real Estate
Facility Management
Real Estate Investment Management
Architecture & Design
"SIOR is thrilled and honored to accept such an esteemed award," says SIOR President Terry Smith, SIOR, CCIM. "The commercial real estate brokerage industry has embraced technology and effective media as essential components to its value proposition. SIOR is committed to leading the industry and helping our members excel in this important aspect of business. Over the past year SIOR has worked hard to provide optimal, relevant, cutting-edge digital services for our members, and it's only just beginning."
SIOR has launched a number of digital initiatives over the past year. If you haven't checked them out, here's a list of just a few. Stay tuned for more digital media services coming your way soon!