Another year has passed and that means it is time to provide a report of the 2016 Office Sales in Reno/Sparks, Nevada. At the end of the report, we have provided an overview of every office building sale in 2016. To the best of our ability, we have categorized the sales by owner-user and investments due to these being the two distinct buyer groups in Northern Nevada. There were a total of 40 investment sales and 36 owner-user sales for 2016. We have provided additional commentary on notable investment and owner- user sales in the report. While we strive to attain the most up to date and accurate information for sale type, we cannot guarantee its full accuracy.
Despite the decrease in sales of office buildings over 40,000 square feet since 2015, the office sales market saw decreasing cap rates and a number of significant sales with prices continuing to increase. Numerous sales in recent years of owner-user buildings under 10,000 square feet, has led to a decreased inventory of smaller office buildings. For this reason, our market may see an increase in new development throughout various submarkets including Northwest Reno, Meadowood, and South Meadows.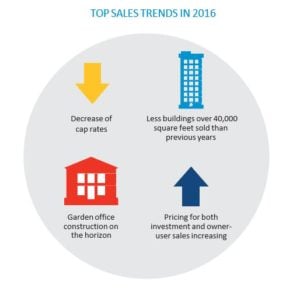 Investment Sales
One trend that the market saw in 2016 was buildings being purchased before the recession as value-add properties and being sold as occupied investments. Our research suggests that the market has stabilized and these value-add projects have begun or will begin to see increased returns. A couple of examples include 639 Isbell Road, which was sold at a 5.3% cap rate, and 6121 Lakeside Drive, which was sold at a 6.7% cap rate. Both properties were recently upgraded, stabilized, and traded for strong cap rates. The US Bank Building, at 1 E Liberty Street, in downtown Reno was on the market as a fully leased investment. The building has since sold in the first quarter of 2017, also demonstrating a successful value-add investment project.
Owner-User Sales
There were a number of significant sales to owner-users in 2016. In most cases for buildings over 10,000 square feet, the user would purchase the property but only occupy a portion of the building, making the vacant space an investment opportunity. This was the case in buildings such as 9480 Double Diamond Parkway where the owner, Great Basin Orthopedics, bought the building and will occupy a majority of the space, while the rest of the building will be used as an investment. This was the case in all of the listed notable owner-user sales with the exception of 5060 Meadowood Mall Circle and 8565 Double R Boulevard, which were100% occupied by the purchaser.
Construction
With sale prices increasing and vacancy decreasing, now is a great time for a value-add purchase, in addition to new construction. We anticipate new garden office construction as options for small users to meet the demand for
product
in this size range since there is currently a lack of inventory. An example of this has been Monte Vista Business Park, located at 4th Street and McCarran Boulevard in Northwest Reno. Consisting of multiple land parcels available for sale, this park has seen significant sales activity throughout 2016. The planning and construction phase is currently underway for these recently transacted parcels. One pad is already in construction for a 3,000 square foot building for the Federal Water Master. Currently, there is activity on three more parcels in addition to the two that have already been sold.
Additionally, a 20,760 square foot build-to-suit building was completed in 2016 for Wood Rodgers at 1361 Corporate Boulevard.
We hope that this report in addition to the comprehensive list of sales below is found by many to be a valuable resource to understanding the Reno-Sparks office market. Should you need any specific information on any sale, please feel free to reach out.
A special thank you to Julie Ott, MAI and Greg McKay for their assistance in writing this report, as well as Monique Orr, Matthew Weare, Fay O'Neil, and Landon Gonzalez of Colliers International for their assistance in the preparation of the data and layout.
*Republished with permission from Colliers International.