On July 11th, David Liebman, SIOR and I were panelists at the Connect Industrial 2018 national conference, along with Keith Gill, DHL supply chain expert, and moderator Ronald Liebman, partner at Riker Danzig. The topic was "Expediting Orders! E-commerce at the Intersection of Industrial & Retail." With such a diverse, expert panel, the discussion was broad, insightful, and full of opportunities. For those that couldn't join, here are the highlights:
Ron Liebman set the table by observing that the impact of e-commerce goes way beyond the "Amazonification" of the market, noting driver shortages and the deepening of major ports to accommodate larger ships with bigger payloads, just to name a few examples. He then turned to the panelists for their thoughts on the topic.
Having just completed two e-commerce warehouse transactions, I pointed out that labor quantity and quality is a key driver for such e-commerce operations. In the first deal, ASOS leased a 1.1 million square foot spec building near Atlanta, GA, and in the second deal, Design Within Reach (DWR), a Herman Miller company, signed a long-term build-to-suit lease for over 617,000 square feet near Cincinnati. In both cases, final site selection and financial analyses were dominated by the availability of retainable labor across an array of skillsets with an eye to competing employers. And for good reason – ASOS will employ over 1,600 workers, and DWR will employ 85.
Without an affordable, reliable, high-quality labor base, neither company would have selected these locations. Worse, their North American e-commerce ambitions would be delayed and impaired, opening the door to their respective competitors. The reality is that not only do consumers vote with their wallets, but they have been conditioned to expect fulfillment of e-commerce orders in 24 to 48 hours and, increasingly in urban/suburban markets, in the same day. Absent a well-honed workforce, such fulfillment in the near-term would come to a crawl.
Gill, who has also been working on the ASOS project near Atlanta (DHL will operate the warehouse for ASOS), chimed in on the labor discussion. He noted that the built-in on-site employee amenities will make all the difference in attracting and retaining an effective workforce in a highly competitive market. ASOS will have a full-service hot meal "town hall" canteen with high ceilings and sweeping window overlooking the beautiful terrain, a full fitness center with showers, outdoor jogging track and basketball court, and many other labor-friendly, regionally-appropriate amenities. For instance, in Canada the basketball court might have been a hockey facility instead.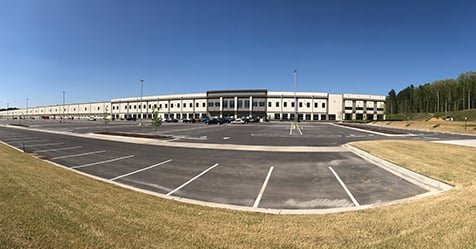 Gill also observed that labor challenges are increasing across the U.S. as unemployment rates drop and wage rates go up, which may drive employers to pursue robotics and automation more quickly than most expect. Regardless of how it gets done, e-commerce and omni-channel fulfillment operations, driven by accelerating consumer demand, are needed nearly everywhere.
David Liebman, SIOR shared the tale of one of his clients who, due to constant labor shortages and disappointments, recently walked away from a lease near Minneapolis with years of remaining lease term, choosing instead to move to Chicago.
All panelists also observed that rapidly evolving e-commerce workforce skills means that there is an increased premium on employer-based or locally-based community training opportunities and partnerships.
While the panelists touched on a variety of other overlapping e-commerce trends and expectations, it was clear that, at least for the time-being, e-commerce trends are driving employers and employees alike to rethink what they do, where they do it, and how.