The energy following SIOR's Fall Event in Chicago last week is incredible, and with good reason: with a total of 1,132 attendees from all over the world, the conference was SIOR's second-largest event in the last 25 years! Momentum around SIOR is clearly building, as exemplified by the highest number of new members ever in attendance.
"Every time I leave a convention, it's somehow the best we've ever had. They just keep getting better and better." ~ Joyce Slone, SIOR
The conference was a resounding success, complete with phenomenal speakers, fully booked networking events, and a sold-out exhibit hall jam-packed with sponsors and exhibitors bringing the latest in CRE assets and technology. Attendees heard from expert panelists who discussed market trends, exploring topics such as the rise of EV-charging, industrial warehouse automation, Artificial Intelligence, tenant representation in a changing office landscape, and so much more… And it was all set against the vibrant backdrop of the Windy City.
In addition to record attendance, the event celebrated vital members and their contributions. Lynn Reich, SIOR, was awarded SIOR's Howell Watson Distinguished Service Award. She and industry pioneer Goldie Wolfe Miller, SIOR, addressed visionary leaders at the Women's Leadership Breakfast. Jill Rasmussen, SIOR, was presented with SIOR's Millie Award for her dedication to SIOR and advancing women in CRE. Finally, SIOR's 2023-2024 Board of Directors were officially inducted into their roles, promising an even brighter future for SIOR.
---
A Complete Slam-Dunk: The Link Registration Experience & An Unforgettable Host Chapter Gift
Headed by Link Logistics, the Conference Registration Experience was uniquely interactive, featuring a live DJ, self-serve badge-printing kiosks, classic arcade games including Pac-Man and Donkey Kong, a 360 Photo Booth, and an eclectic variety of strolling entertainers ready to strike a pose at a moment's notice.
Welcome mimosas in hand, attendees could then drop by the Host Chapter Gift table where, courtesy of Bridge Commercial and Arco Murray, they could place their order for an exclusive pair of Nike Jordans to be drop-shipped directly to their homes! Kudos to the SIOR Chicago Chapter for yet another great Chapter gift, one that will forever be a memento of the always on-the-go energy in Chicago!
A Symposium of Experts: SIOR's Fall Event Speakers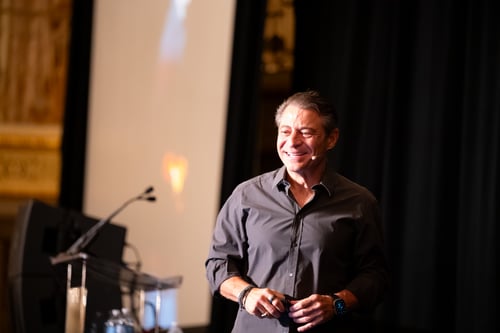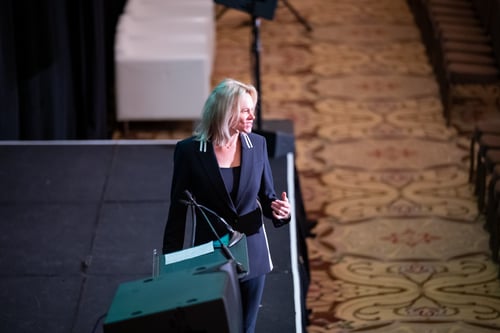 SIOR's Fall 2023 Event boasted a range of extraordinary keynotes — from Fortune's Top 50 Leader & XPRIZE Founder Peter Diamandis sharing BOLD insights for exponential success, to former sports agent Molly Fletcher, who delved into the secrets of unlocking the champion mindset.
Rod Santomassimo and Mike Lipsey, industry stalwarts taking the stage together for the first time, shared exclusive business insights and the leading strategies for success in the coming year. Dr. Thomas LaSalvia, PhD, of Moody's Analytics CRE, provided an economic update and forecast: the perfect curtain-closer to an event brimming with invaluable knowledge.
Networking, Networking, more Networking… And Some Rock 'n' Roll!
Our week in Chicago consisted of countless networking opportunities. One of the highlights was a Speed Networking event, an interactive and fast-paced session where independent brokers traded stacks of business cards with as many people as possible.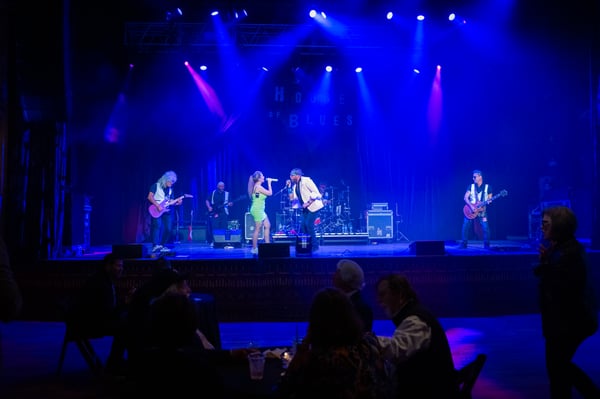 Off-site, attendees enjoyed a variety of specialized happy hours and late-night soirees, featuring the best Chicago bites, eclectic cocktails, and incredible skyline views. As always, the Opening Night Panattoni Party was one of our biggest showstoppers — everyone gathered at the legendary Chicago House of Blues Chicago for good food, a live band, and dancing the night away!
Office and Industrial Market Trends, CRE Technology, and More: Session Takeaways
The mega sessions were a whirlwind of knowledge, covering everything from EVs and the power grid, to warehouses, supply chains, interest rates, and navigating the evolving office landscape.
Here are some of the key takeaways from the event's educational sessions:
AI is going to revolutionize our industry; If you don't get on board now, you might get left behind.
The current market situation is more of an "adjustment" than a "downturn."
Office amenities matter not only within a building, but in the surrounding area.
Industrial buildings will continue to get taller and people are going to evaluate on a cube footage, rather than a square footage, basis.
SIORs are braving challenges in the office space with creativity and hard work.
"The Industrial Mega Session had great international onsite. They got into the weeds of how complex logistics and manufacturing can be on an international level. It's a big world out there." ~ Erik Sexton, SIOR
Showstopping Photos, Hashtags, and GIFs Galore: A Social Media Takeover
Throughout the event, our members set the internet on fire! They crafted captivating collages, discussed their takeaways with fellow colleagues, and painted a virtual canvas of the vibrant city. The digital buzz was a testament to the unending energy of SIORs and event attendees.
"The enthusiasm only grows. Brokers from around the globe are inspiring one another and making connections like never before. We're proud to be part of such a transformative experience for the CRE industry." ~ SIOR Canada Central Chapter
And the momentum is still going! Click here to check out the memories shared and what attendees have to say about their experience.
---
Business Looks Better from Here: See You at Amelia Island, Florida!
While Chicago was a game-changing event and will truly go down in history as one of our biggest events, we're already looking ahead! Warm summer sand and the ocean waves on our minds — registration is now open for SIOR's Spring 2024 Event, May 6-9 at Amelia Island, Florida! Our events keep getting better and better, so you don't want to miss this!
"SIOR has an electric, enthusiastic, and contagious vibe. Great conference — time well spent." ~ Craig Meyer, SIOR

"The entire team at SIOR headquarters continues to raise the bar. I have never been more proud to be an SIOR!" ~ Scott Savacool, SIOR