Five elements fueling the world of supply chain in Québec and Canada
JLL has noticed the following trends over the past few years:
• Logistics challenges related to conductingbusiness online
• Challenges in reducing operating costs
• Difficulty recruiting long haul drivers to ship goods to the U.S.
• Flexible and reliable capacity from Third Party logistics (3PLs) and transportation providers
• Substantial real estate cost savings on leased logistics assets
Neglecting the back end of business operations can undermine growth and profitability of a business. This white paper assesses trends that all decision makers should consider in order to ensure that shortcomings in their back-end operations won't break their business.
1. E-commerce - Delivery is the moment of truth
Canada is a global leader in internet usage and among the fastest adopters of smart phones in the world. Despite the fact that 51.0 percent of Canadians order goods and services over the Internet, e-commerce still has a lot of room for improvement within the Canadian market. Factors such as a lack of supply chain development due to high shipping and logistics costs and a lack of merchants in the market are making it challenging for businesses to fully integrate e-commerce in their business operations. Adding further complications, Canada's metropolitan areas are geographically far from one another so no cluster effect has been established.
Despite the many challenges, companies such as the Hudson Bay Company (HBC) are growing their omni-channel capabilities; HBC recently acquired Saks Fifth Avenue, which launched a four-year IT project in 2012 to develop an "any channel, any device, any time" shopping platform for consumers, integrating its online and store inventory and merchandising systems.
Before the launch of its stores in Canada, Target built distribution centers in Cornwall, Calgary and Vancouver. Target also announced that it will likely launch its Canadian online sales department in the near future. In February 2014, Walmart Canada announced plans to invest $500 million in the creation of 35 supercenters across the country with the goal of improving its distribution system and expanding its e-commerce operations nationwide.
Amazon Canada, while still lagging behind the U.S., is flexing its muscles with the completion of two large distribution centres, totaling 700,000 square feet to support their distribution network in Canada. In the U.S., Amazon's strategy has been to grow its distribution network to get as close as possible to its customers which helps the company deliver quicker and reduce transportation and logistics costs. Although Canadian metropolitan areas are further from one another than those in the U.S., this is something that Canadian enterprises should thrive to emulate in order to reduce operational costs and improve on time delivery performance.
The e-commerce market in Canada has a long way to go in order to catch up to its U.S. counterparts, specifically, a more efficient
logistics and distribution network will be vital to support sales. The influx of several large retailers is expected to heat up competition and we expect strong growth in the industrial big box market, which is necessary to support future supply and distribution capabilities.
2. Cost reductions - When thinking outside the box is a must
In July 2014, it was publicly announced that Target Canada was pushing its suppliers to give them a 2.0 percent cost break to help turn around its struggling Canadian operations and win an increasingly tough retail battle. In fact, Target Corp. said it's setting up the Target Canada Business Development Fund (BDF) by collecting, "an incremental 2.0 percent accrual against receipts at cost", from its vendors starting March 2015. John Butcher, the new senior vice-president of merchandising, said that, "the BDF will provide incremental funding for the key initiatives, including investment in technology and supply chain". A similar situation occurred after grocer Sobeys Inc. closed its $5.8 billion acquisition of Safeway Canada last fall and angered many suppliers by asking them for a retroactive 1.0 percent cut as well as no price increases in 2014, with some exceptions. These types of retailer demands are becoming more common in the Canadian retail marketplace and they are adding unexpected costs onto manufacturers in an already challenging business environment.
A different strategic way that businesses have found to reduce their costs and continue to service "La Belle Province" is by using Cornwall's logistics hub. Cornwall's 1,600 acres business park in the town's north-east corner is home to one of Canada's largest logistics clusters. Businesses such as Canada Post, Purolator, Loblaws, Olymel, Seaway Express, Shoppers Drug Mart, Target and Walmart have their distribution centers in Cornwall.
Most of these retailers outsource theirdistribution activities to third-party logistics companies or operate via subsidiaries. Companies make the move to Ontario for lower corporate taxes, less unionization and lower wages. For typical Small and Medium Enterprises (SMEs) that wish to service the Greater Montréal Area, relocation is not an option as they would have to swallow higher transportation costs and would not benefit from established economies of scale that retail giants have.
3. Trucking industry - Not that easy to recruit truck drivers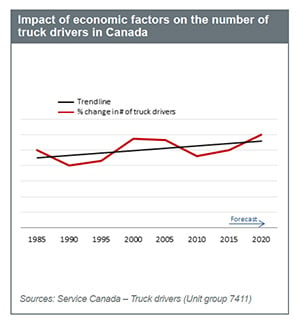 According to a 2013 report commissioned by the Canadian Trucking Alliance there will be a shortage of over 30,000 truck drivers in Canada by 2020. Interestingly the trucking industry has seen significant employment growth over the last decade, with the exception of the 2008 – 2009 recession, however the actual need for new workers is even higher.
The graph shows how employment for truck drivers is impacted by economic factors such as recessions and periods of economic stability. Additionally, employment in this occupation is strongly impacted by international trade; especially with respect to exports to the U.S. Statistics Canada estimates that over 70.0 percent of Canadian exports are directed to the U.S. and between 50.0 and 60.0 percent of all exports are transported to the U.S. by truck. It's important to note that the rising demand for truck drivers generated by rising exports to the U.S. is concentrated among long haul truck drivers.
A study conducted by the Canadian Trucking Human Resource Council revealed that the annual turnover in this occupation is estimated to be 35.0 percent. The pool of people qualified to fill these jobs is relatively large, consisting primarily of people who have a driver's license for the appropriate class of vehicle (classes 1 to 3) and/or who have experience as delivery drivers or bus drivers.
However, employers frequently have trouble recruiting the "right" employees. A report published in January 2012 by CAMO-Route (Road freight transportation sector diagnosis of labour), confirms that the greater the distance to be covered, the more difficult hiring becomes.
Employers in the field say that lack of experience, unsatisfactory working conditions and lack of training are also major reasons why candidates are often not retained for the positions. In addition, younger candidates are less inclined to work away from home and demand more flexible schedules.
With a lack of drivers, employers may be forced to raise salaries to attract or retain employees and, unfortunately, consumers are the ones who will end up paying more at the end of the day.
4 - Organizational changes and subcontracting - Change is not an option
Businesses are continuously trying to operate more efficiently and cost effectively, leading to a rise in subcontracting transport activities.
This trend can be observed in two ways; companies either decide to subcontract their transport activities to focus on their core business activities, or they subcontract these activities directly to their salaried drivers, thereby "transforming" them into self-employed workers (often seen in manufacturing and forestry sectors).
It has been observed that Canadian companies are trying to mitigate risk by subcontracting closer to home. Liz Lorincz, international director of trade consulting for Livingstone International, says that this is particularly evident in the food industry; due to recent changes to Bill S-11 (the Safe Food for Canadians Act), importers are now responsible for food safety.
This resulted in importers, "seriously analyzing the risk of importing food versus the costs of sourcing at home, which also offers benefits such as reduced transportation costs and reduced compliance and safety risk" said Lorincz in their report on supply chain trends (the top trends businesses are focusing on in 2013).
A somewhat different trend has been observed in the U.S. For instance, until this year, all Harley-Davidson badged motorcycles were built locally using parts that were almost exclusively sourced domestically. Although late to the offshoring game, the company will now feature more foreign-made components (built in India) to keep prices low. Offshoring comes with its risks and headaches; Harley Davidson has to deal with unforeseen inventory expenses, overseas quality control and unanticipated delays that come with offshoring.
Companies can also outsource some of their operations through strategic acquisitions. In July 2014 it was announced that Wal-Mart Canada purchased two privately held Canadian logistics firms, trucking company Translogic Express Dedicated Inc. and distribution center operator SCM, as part of its growth strategy.
5- Real Estate - The return of the buyer/tenant's market
The Greater Montréal leasing market has remained slow for some time and pre-election momentum seems to be having lagging repercussions on the industrial market with users and investors' level of confidence remaining unstable.
Recent data suggest that the industrial market has bottomed out and is slowly back on a rising curve with developers' level of confidence increasing and new construction projects rising. In fact there is currently over two million square feet of industrial space under construction with average delivery time estimated for the beginning of 2015. The economic outlook remains positive for Québec with a forecasted 1.9 percent provincial GDP growth in 2014 by financial institutions. With the Canadian dollar remaining weak, a growth in exports is anticipated which should provide a boost to provincial labour market and fuel demand for industrial space.
The saying goes: "What goes up must come down", but the opposite is true as well and now is the time to take advantage of the market improvements to come. The majority of current market movements are favouring tenants. Landlords continue to offer inducement packages, such as free rent, to retain and attract tenants. Conversely, there continues to be consistent demand for assets for sale between 30,000 to 50,000 square feet with high ceilings that are also close to major transit axis. JLL has noted elevated demand for data centre requirements, distribution centres particularly for companies in the food industry and an increased presence of transport companies in the Montréal industrial market in the past months.
Sources: JOC Group
For further information, visit www.jll.com.
COPYRIGHT © JONES LANG LASALLE IP, INC. 2014
Jones Lang LaSalle Real Estate Services Inc.