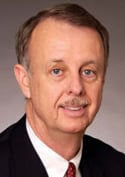 SIOR is pleased to introduce its new CEO Thomas E. McCormick, SIOR, FRICS. Tom comes to SIOR with 37 years of commercial real estate experience and has been an SIOR designee for 33 years. The first SIOR member to ever hold an executive position within the organization, he brings with him an abundance of knowledge and experience.
As SIOR's CEO he will be responsible for the management of the Society's business office and executing the directives set by the SIOR Board of Directors and its governance committee. Tom is no stranger to SIOR Leadership as well; he's served as SIOR Global Past President, SIOR Foundation Past President, his local chapter's Past President, and most recently as the Operations Director on the Board. Now he takes on SIOR role serving as our Chief Executive Officer.
Tom, an industrial specialist based out of Irvine, California, has had a long-spanning career in commercial real estate, serving most recently as Senior Vice President – National Accounts for Rockefeller Group International, a leading real estate developer, owner, and investor. In this role, his responsibilities included development of new opportunities for industrial and office real estate business. Tom began his real estate career in 1981 with Coldwell Banker Commercial before joining what would become Colliers Macaulay Nicolls, a privately held Canadian-based commercial brokerage company with 85 offices around the world. He served for three years as President of the firm before joining Panattoni as their Chief Operating Officer.