2021: A year that taught us the importance of togetherness. After months of stay-at-home orders and mandated social distancing, communities across the globe finally reunited, and with that came a renewed focus on making the world better than we left it at the pandemic's onset. SIOR chapters took this to heart as they found creative and meaningful ways to make an impact on their local communities. Check out what they did and share with us how you, or someone you know, has given back during 2021.
SIOR Arizona Chapter
A group of 20 members and sponsors for the SIOR Arizona Chapter gathered to pack food for Feed My Starving Children, a nonprofit organization that provides nutritiously complete meals to malnourished children around the world.
During the holiday season, the SIOR Arizona Chapter joined together to help out at St. Mary's Food Bank, which services the Phoenix area as well as nine of Arizona's 15 counties. In addition to food distribution, St. Mary's also coordinates children's feeding programs, manages a hands-on training program to help adults be successful in the foodservice industry (Community Kitchen), and provides hands-on training to help adults be successful in the warehouse and logistics industry (LIFT).
SIOR CANADA CENTRAL Chapter
The SIOR Canada Central Chapter raised money in support of SickKids Foundation during its Annual Golf Classic at The Country Club in Woodbridge, Ontario. SickKids Foundation aims to inspire local communities to improve the lives of children in both Canada and around the world by encouraging local communities to invest in health and scientific initiatives.
The chapter also participated in their second "Truckin' For Toronto," food drive for the Daily Bread Food Bank. Volunteers raised over $5,000 and collected food items from 11 different member and sponsor locations across the Greater Toronto Area.
SIOR CHICAGO Chapter
The SIOR principle of "serving the greater good" was on the hearts of members of the SIOR Chicago Chapter who gathered together to pack 7,560 meals at Feed My Starving Children in Schaumburg, Ill. Those meals will feed 20 children for one year.
In its 11th year of supporting the Ada S. McKinley College-Bound Trunk Scholarship, members of the SIOR Chicago Chapter donated $15,000, making a total of 28 Trunk Scholarships available to students from the west and south sides of Chicago. Scholarship winners are selected based on an essay contest and demonstration of financial need. Each trunk is valued at $500 and will provide these college-bound honorees with living and learning essentials to begin this next chapter of their lives.
SIOR COLORADO Chapter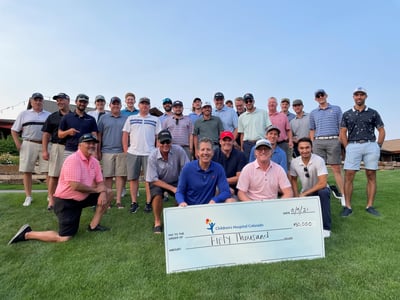 Seventy members and sponsors gathered at the SIOR Colorado Chapter's 24th annual Broker-Developer Golf Tournament at The Ridge at Castle Pines North in Castle Pines, Colo. The event was a smashing success, raising $50,000 for Children's Hospital Colorado.
SIOR Connecticut Chapter
The SIOR Connecticut Western Massachusetts Chapter assisted the North Central Connecticut Habitat for Humanity (Hartford) in the construction of a 2-building site on Forbes Street in East Hartford, Conn. The chapter has been partnering with Habitat for Humanity for over 20 years, previously working with the Habitat for Humanity of Coastal Fairfield County on new home builds in their region.
SIOR INLAND EMPIRE & ORANGE COUNTY Chapter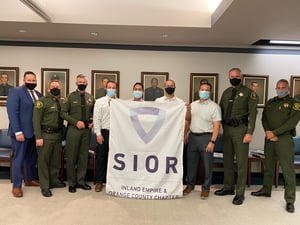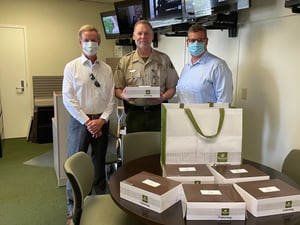 For the fifth year in a row, the SIOR Inland Empire & Orange County Chapter held its #SIORGivesBack event to benefit the local community. This year, chapter leaders and members delivered 70 lunches to local law enforcement offices across southern California in Orange, Riverside, and San Bernardino Counties to thank them for the service they provide to the community.
The chapter also held a fundraiser during their Sponsor Appreciation and Bocce Ball Tournament event, raising over $1,500. The funds will benefit the families of three local Marines who perished earlier this year in the Kabul Airport attacks: Marine Corps Cpl. Hunter Lopez (22) of Indio, Calif.; Marine Corps Lance Cpl. Dylan R. Merola (20) of Rancho Cucamonga, Calif.; Marine Corps Lance Cpl. Kareem M. Nikoui (20) of Norco, Calif.
SIOR Southern Nevada Chapter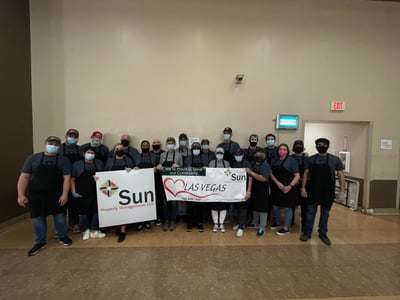 The SIOR Southern Nevada Chapter had a busy year making a difference in their community! They pooled together a group of over 240 members, sponsors, family, friends, and clients to volunteer their time for the Las Vegas Rescue Mission. Over the course of 13 days, the volunteers committed 488 hours to serve more than 2,800 meals to hungry and homeless families in the Las Vegas community.
Members also participated in two separate fundraising events to benefit the Paralyzed Veterans of America (PVA) Nevada Chapter, which included raising $10,000 during the 2021 Walk, Run, & Roll 5K. While COVID-19 inhibited any in-person participation at this event, the funds raised will go towards outreach programs and health and wellness services for the organization. Additionally, over 40 members of the chapter helped raise $3,300 in funds and donated $4,900 in socks and hygiene products for PVA. The volunteers also assembled 650 hygiene kits to be distributed throughout the state.
Finally, 80 chapter members participated in the Las Vegas Rescue Missions' Walk A Mile event. In addition to the $20k donated by the SIOR Southern Nevada Chapter, members raised an additional $10k in contributions that will provide shelter, food, and addiction recovery services to people in need.
SIOR WESTERN MISSOURI/KANSAS Chapter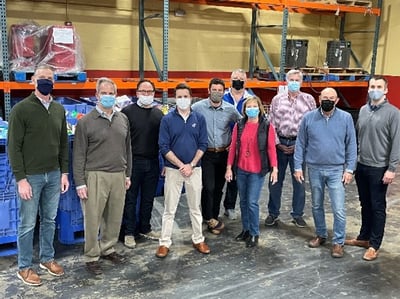 For its annual Community Service Day, the SIOR Western Missouri/Kansas Chapter teamed up with Harvesters Community Food Network for the second year in a row. Harvesters, a certified member of Feeding America, is a regional food bank that serves northwestern Missouri and northeastern Kansas and provides food and household products to over 760 nonprofit agencies. Ten SIOR members spent the morning loading over 350 boxes with a variety of food and drinks to help those in need.